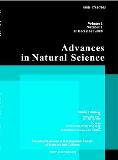 Online Submission Email Submission

ISSN 1715-7862 [PRINT]
ISSN 1715-7870 [ONLINE]
Frequency:Quarterly
Language: English
Release dates:The last day of March, June, September and December
Founded on December 31, 2008
Publisher: Canadian Research & Development Center of Sciences and Cultures
Paper Submission E-mail: ans@cscanada.net; ans@cscanada.org
Canadian Research & Development Center of Sciences and Cultures 
9375 Rue de Roissy Brossard, Québec, J4X 3A1, Canada
Telephone: 1-514-558 6138
---
The journal Advances in Natural Science is a comprehensive academic journal, cosponsored by Canadian Research & Development Center of Sciences and Cultures. Its primary mission is to encourage communication of the novel and important research results in various fields of natural sciences.
Special Topics, calling for papers
For details on manuscripts submissions, please see the Author Guidelines in our website:
Http://www.cscanada.org
Http://www.cscanada.net
---
Join Us as a Reviewer or Editor
We sincerely welcome experts and scholars to cooperate with us as our editors and reviewers. For more please contact ans@cscanada.net
Notes (please read)
1. The manuscripts are required to be written in English, and they should be submitted to ans@cscanada.net or caooc@hotmail.com. The preferred formats are MSWord and LaTeX.
2. We will send you a confirming E-mail in two days after receiving your article. Please contact us if the E-mail is not timely delivered.
3. The review process is about 14-60 days. We will immediately send you the reviewers' comments by an E-mail. Please contact us if you haven`t got any information in two months.
4. You will receive on free sample of the issue that contains your article. Please contact us if you haven`t received it in a month.
5. The copyright of the articles goes to the authors, while ANS owns the first publishing right.
6. As for the publication fees, 40% of the articles are free, on the basis of assessment results given by our editorial team. Excellent articles will be published with no charge, but others will not.