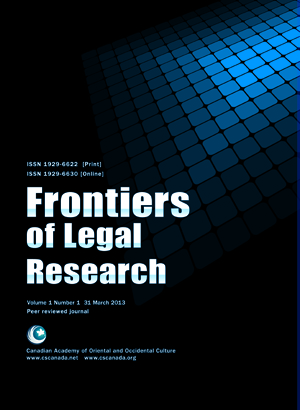 Journal Title: Frontiers of Legal Research (FLR)
ISSN 1929-6622 E-ISSN 1929-6630
Frequency: Quarterly
The FLR publishes 4 issues a year, in March, June, September, and December, and occasionally runs special conference issues.
First issue: March 31, 2013
Publisher: Canadian Academy of Oriental and Occidental Culture (CAOOC)
Address: 730, 77e AV, Laval, Quebec, H7V 4A8, Canada
Telephone: 1-514-558 6138
Language: English
Review: Anonymous peer-review, involves a double-blind review of all manuscripts.
Email: flr@cscanada.net; flr@cscanada.org
The journal Frontiers of Legal Research publishes articles on any topic of legal scholarship relating to international, comparative law, and legal theory. The FLR aims at becoming a platform for showing developments of law in Canadian, European and international jurisprudence and creates possibilities for communications from different legal systems. A strict and rigorous anonymous peer-review procedure ensures the quality and equal standing of articles submitted by professors, practitioners or students, and a distinctive linguistic policy and expertise gives authors the opportunity to publish their papers in English.
Join Us as a Reviewer or Editor
We sincerely welcome experts and scholars to cooperate with us as our editors and reviewers. For more please contact flr@cscanada.net or flr@cscanada.org
Reminder
How to do online submission to another Journal?
If you have already registered in Journal A, then how can you submit another article to Journal B? It takes two steps to make it happen:
1. Register yourself in Journal B as an Author
Find the journal you want to submit to in CATEGORIES, click on "VIEW JOURNAL", "Online Submissions", "GO TO LOGIN" and "Edit My Profile". Check "Author" on the "Edit Profile" page, then "Save".
2. Submission
Go to "User Home", and click on "Author" under the name of Journal B. You may start a New Submission by clicking on "CLICK HERE".
This work is licensed under a Creative Commons Attribution-NonCommercial-NoDerivs 3.0 Unported License.
Copyright © Canadian Academy of Oriental and Occidental Culture (CAOOC)
Frontiers of Legal Research Editorial office
Address: 730, 77e AV, Laval, Quebec, H7V 4A8, Canada
Telephone: 1-514-558 6138
Email: flr@cscanada.net; flr@cscanada.org; office@cscanada.net